Posts for: February, 2019
By Brent Bakken DDS
February 19, 2019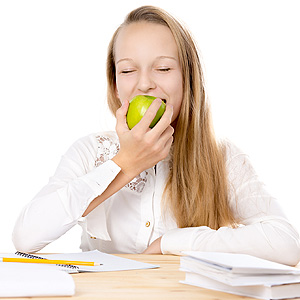 "The Freshman 15" is a popular way of referring to the phenomenon of new college students gaining weight during their freshman year (although the average is less than fifteen pounds). According to research, college students gain weight mainly due to an unhealthy diet and lack of exercise.
If you're experiencing this as a college student, you should also know poor diet and lifestyle choices harm your teeth and gums as well. If you don't want to encounter major dental problems, then you need to make some changes beginning with the same cause for your weight gain: what you eat and drink.
Like the rest of your body, your teeth and gums have the best chance for being healthy when you're eating a balanced, nutritional diet low in added sugar. And it's not just mealtime: constant snacking on sweets not only loads on the calories, it also feeds disease-causing oral bacteria. Sipping on acidic beverages like sodas, sports or energy drinks also increases the levels of acid that can erode tooth enamel.
Some lifestyle habits can also affect oral health. Using tobacco (smoked or smokeless) inhibits your mouth's natural healing properties and makes you more susceptible to dental disease. While it may be cool to get piercings in your lips, cheeks or tongue, the hardware can cause gum recession, chipped teeth and soft tissue cuts susceptible to infection. And unsafe sexual practices increase your risk for contracting the human papilloma virus (HPV16) that's been linked with oral cancer, among other serious health problems.
Last but not least, how you regularly care for your teeth and gums can make the biggest difference of all. You should brush and floss your teeth ideally twice a day to clean away plaque, a thin film of disease-causing bacteria and food particles. And twice-a-year dental cleanings and checkups will round out your prevention efforts against tooth decay or periodontal (gum) disease.
Making your own choices is a rite of passage into adulthood. Making good choices for your teeth and gums will help ensure they remain healthy for a long time to come.
If you would like more information on maintaining dental health during the college years, please contact us or schedule an appointment for a consultation. You can also learn more about this topic by reading the Dear Doctor magazine article "10 Health Tips for College Students."
By Brent Bakken DDS
February 09, 2019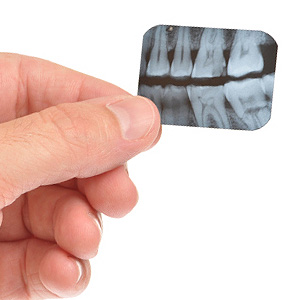 One of the most widely used forms of dental imaging is the bitewing x-ray. So called because of the shape of the device that holds the exposable film a patient clenches between their back teeth, the bitewing x-ray is an effective means for detecting the earliest stages of tooth decay.
These early signs are small lesions on a tooth surface caused by mineral loss in the enamel. While we can identify them on front teeth through visual examination or bright lighting, they're nearly impossible to see on the biting surfaces of back teeth. The bitewing x-ray solves this problem.
During the procedure, a narrow beam of x-rays is directed at the back teeth area. Since X-rays can transmit through solid matter, they pass through the teeth and gums to expose the film attached to the bitewing assembly.
X-rays pass through matter at different rates depending on the density of the tissue — a slower rate for harder tissues like teeth and bone and a faster rate for soft tissues like the gums. As a result, x-rays through teeth expose less of the film and appear as a lighter image than the gums. This difference is so precise even a tooth's softer dentin appears slighter darker than its harder outer enamel.
This precision helps us identify decay lesions. Because the lesions on the enamel are less dense than the normal enamel, they'll appear as dark spots. By detecting them at this stage we have a better chance for reversing the effects of decay or at least minimizing damage that's already occurred.
Because x-rays emit radiation, there's a natural concern about over-exposure and we go to great lengths to reduce it. Children may undergo a bitewing x-ray twice a year for developing teeth, while adults with healthy teeth are typically x-rayed just once a year. Advances in digital film and other technology have also helped lower the exposure rate.
Today's standard 4-film bitewing x-ray produces about four days worth of what we receive on average from normal background radiation, so the health risk is quite negligible. The benefit, on the other hand, is much greater — the early detection of tooth decay could ultimately save a tooth.
If you would like more information on the use of bitewing x-rays in dental care, please contact us or schedule an appointment for a consultation.